The HEX Group Team
The Board is responsible for the strategic growth and development of The HEX Group and is supported by a number of experts, reflecting the diversity of the Group's commercial divisions and the importance the Group places on the development of its people.
The Board
Martin Smith
CEO - The HEX Group
---
Martin Smith leads The HEX Group and was named Chief Executive Officer in January 2020. Martin is responsible for the company's strategic growth projects including most recently, negotiating a long-term agreement with INEOS Electrochemical Solutions resulting in the construction of a purpose-built production facility at Beacon Park, Stafford operating under the name Alpha Manufacturing Chemical Technologies.
After graduating from Bath University Martin began his career in Paris working for Peugeot and following an intensive grounding in the world of engineering and manufacturing, he joined the family business. Determined to learn the business from the ground-up Martin spent almost a decade working in every function of the business splitting his time between day and night shifts to fully understand the true capability of the Group. As a result, the Group has grown ten-fold in the last twenty years and is today widely regarded as one of the region's most progressive engineering and manufacturing businesses.
Martin is a passionate and committed leader and is instrumental in the development of the Group's Purpose. He maintains that the development of people within the Group is what defines the success of the business and is personally committed to supporting the executive leadership team to ensure that The HEX Group is a place where people want to work, feel rewarded for their efforts and have the opportunity to thrive.
Proud of his Staffordshire roots and committed to the development of the region as a world-class destination to do business, in January 2022 Martin became Chairman of the Staffordshire Chambers of Commerce Manufacturers Forum.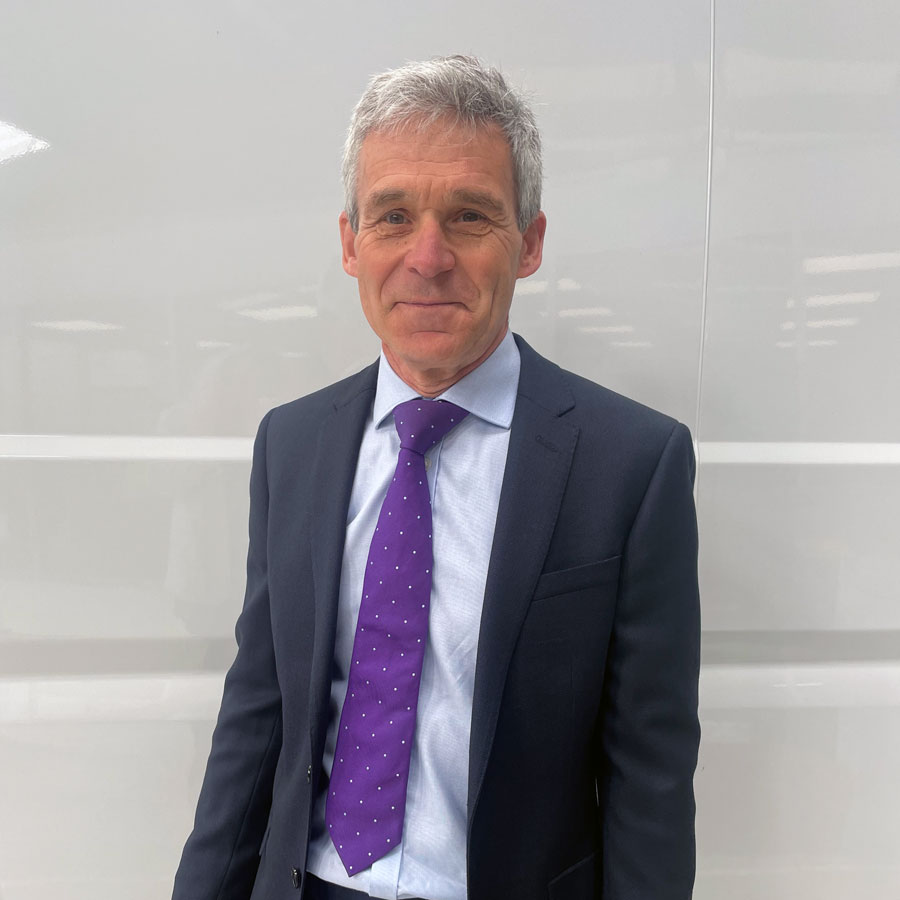 Andrew Humphrey
Group Chairman - The HEX Group
---
Since 2000, The HEX Group Chairman Andrew Humphrey, has been instrumental in the growth and success of the Group. Graduating in 1985 with a first class honours degree in mechanical thermodynamics engineering and going on to join FTSE 100 company Redland Group as a Graduate Trainee, Andrew is a visionary and in every role, throughout his 30 year career, he has been a strong leader and mentor.
Today, as Group Chairman he continues to influence the strategic direction of the business and is very much the custodian of the Group purpose and values. He shares this experience: "A career in engineering was always going to be where I was headed, but being 'slightly competitive' I was also interested in what motivates people to succeed. Whilst studying I gained work experience with agricultural machinery, I became a qualified welder and I worked on an oil exploration ship in the North Sea. These jobs gave me some invaluable life experience, not just of engineering but with people.
"My real passion is to see other people grow and develop and this opportunity really presented itself after ten years at the Redland Group when I was given the job of Managing Director of the machinery manufacturing division. With a motivated team and clear direction, we exceeded all expectations. It was a period of great realisation to see how the training and development of people, communication and direction can contribute to real tangible results."
Joining Tomkins PLC in 1997, Andrew was a critical part of the team that prepared the business for sale and after 3 years of bringing the company's processes and systems up to date with rigorous financial controls, Andrew was prepared for his next challenge. Joining the Group in 2000 as Managing Director, Andrew has been instrumental in the growth of the Group and has supported a culture that has ensured that family values remain at the centre of The HEX Group today. Andrew explains: "The business has grown ten-fold in the last two decades and now employs over 400 people. It's incredibly satisfying to have been part of the development of so many talented colleagues and today, our unique culture is what defines The HEX Group in every market we serve. As we continue to enter new markets and further expand our presence in existing markets, the development of our people remains central to that success. From the recruitment of over 100 apprentices since 2009 to the launch of The HEX Group Accelerate Programme in 2022, there is no limit to our ambition as a business that puts people at the very centre of our success."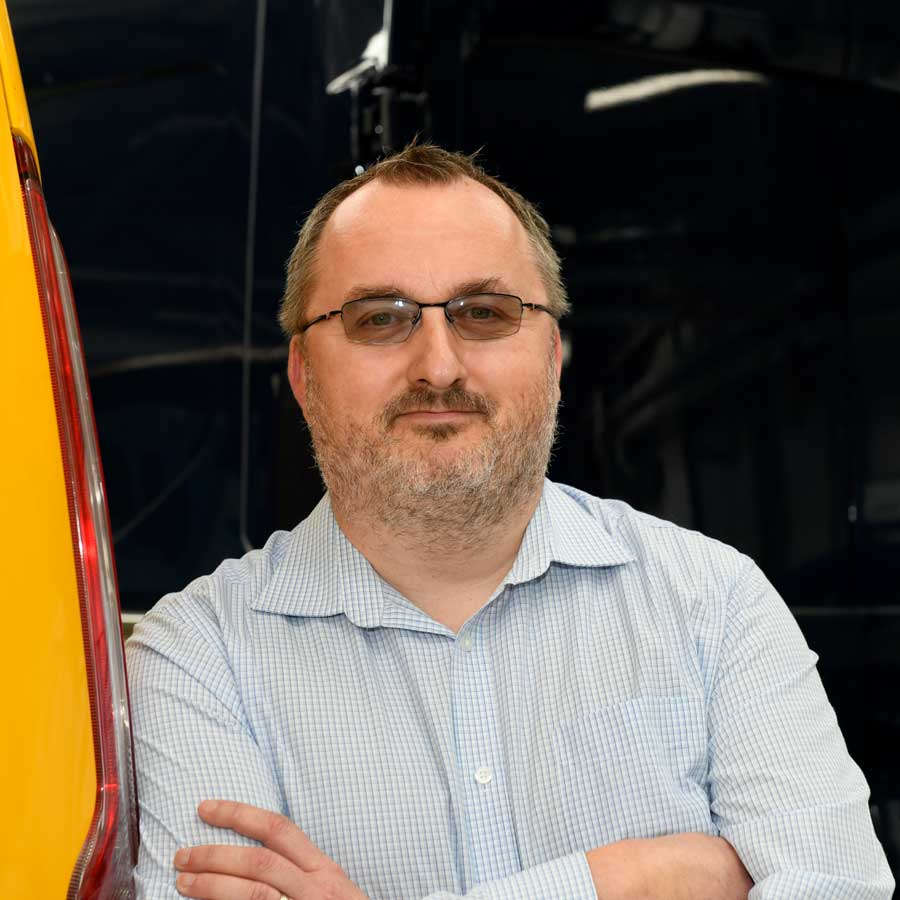 Jonathan Holyhead
Finance Director - The HEX Group
---
Joining the Group 30 years ago, Jonathan Holyhead's contribution to the business has been invaluable. Responsible for the financial health of the business, Jonathan has played a key role in the Group's growth, working closely with the leadership team to deliver a number of strategic projects.
Jonathan explains how the journey began: "looking back to the start of my career, I wasn't interested in the university path, I really wanted to work with numbers which lead to me enrolling onto an AAT Accounting Qualification. Realising I wanted to put that learning into practise I accepted my first role as Purchase Ledger Clerk for Bri-Stor Systems, a division of the Group."
Over the years, Jonathan displayed his enthusiasm and catapulted himself into countless scenarios constantly seeking opportunities to improve business procedures and controls, as he continues: "it was important for me to continuously be looking to the future, and by this, I mean automating invoice and debtor processes, monitoring stock control and inventory. As a function we are constantly implementing new methods that not only improve our own financial position, but by working with our supply chain colleagues, bring value to a broad range of stakeholders and customers."
In 2006 Jonathan took the opportunity to complete a CIMA Management Accountant qualification which saw his role progress to become a Management Accountant.
Jonathan is a passionate and committed leader and is instrumental in the success of the Group, capturing every opportunity to develop procedures and processes. With a strong vision to lead the finance team to create further value to the overall business, Jonathan concludes: "I am extremely proud of where the business is now and the significant growth we have delivered in the last ten years."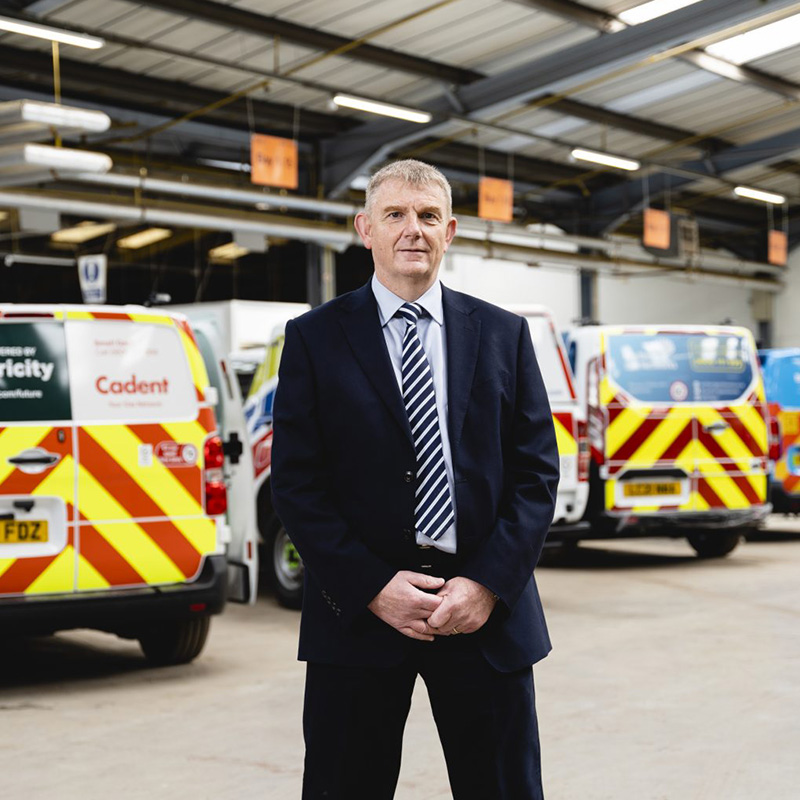 Simon Webb
Managing Director - Bri-Stor Systems
---
Simon Webb, Managing Director of Bri-Stor Systems knows all about hard work. Leaving school in the 80s, his first experience of engineering came about when he started a four-year Mechanical Technician Apprenticeship at Portsmouth based firm Dunham-Bush Ltd. Gaining a vast amount of experience in the fundamentals of engineering in those first four years, Simon knew that continuing his education while learning 'on the job' would be his golden ticket to an exciting and rewarding future.
Simon tells us more about his early career, what motivated him along the way and how his career path continues to influence his decisions today: "As a kid I loved making things, but equally I loved taking things apart so I could see how they worked, so it was no surprise to my parents that as soon as I was able, I wanted to start my career in mechanical engineering. The first few years of my career were hard work, not necessarily in terms of manual labour, but studying and working really stretched me, particularly when you've come straight from school into the workplace – it takes some adjustment. That said, I loved that I could earn a living and continue my studies and in actual fact, I spent several years continuing to balance the two, embracing every opportunity to get ahead in my career while learning at the same time."
After completing his initial Apprenticeship, Simon achieved an HNC in Mechanical & Production Engineering and quickly followed this by obtaining an ONC in Electrical / Electronic Engineering. Enjoying his role as a Design Engineer, working for several firms in the South of England, Simon moved into the automotive industry in 1999 and his career took off working as a Project Engineer for Autoliv Ltd, a global manufacturer of Airbag Safety Systems. Simon continues: "At this point in my career I knew that to move to the next level of management I really needed to achieve an engineering degree so with a full-time job and significant responsibility I took the plunge. Four years later and I achieved a First Class Honours Degree in Mechanical Engineering & Business from Southampton University – it was exhausting, yet exhilarating but really propelled my career."
Fast forward to 2009 and with world-class experience at Autoliv Group and Bentley Motors, Simon joined the Group as Engineering Manager and worked his way through operational roles to become Managing Director in 2019. Reflecting on his own career, Simon has immense respect for colleagues that have the drive and determination to advance their own careers, he says: "Having been through every level of the education system I have huge respect for the Apprentices joining the Group today. Ultimately, I've been that lad on the shopfloor so I know how daunting it can be, which is why I remain entirely committed to ensuring our Apprentices get every opportunity to thrive. It's tough out there. Finding a career in the highly competitive world of manufacturing and engineering is not easy – which is why we will always value the Apprentices that see a future with us. Individually, they put their trust in us to nurture their skills and from a Group perspective, we will always go above and beyond to give Apprentices an exciting career with us."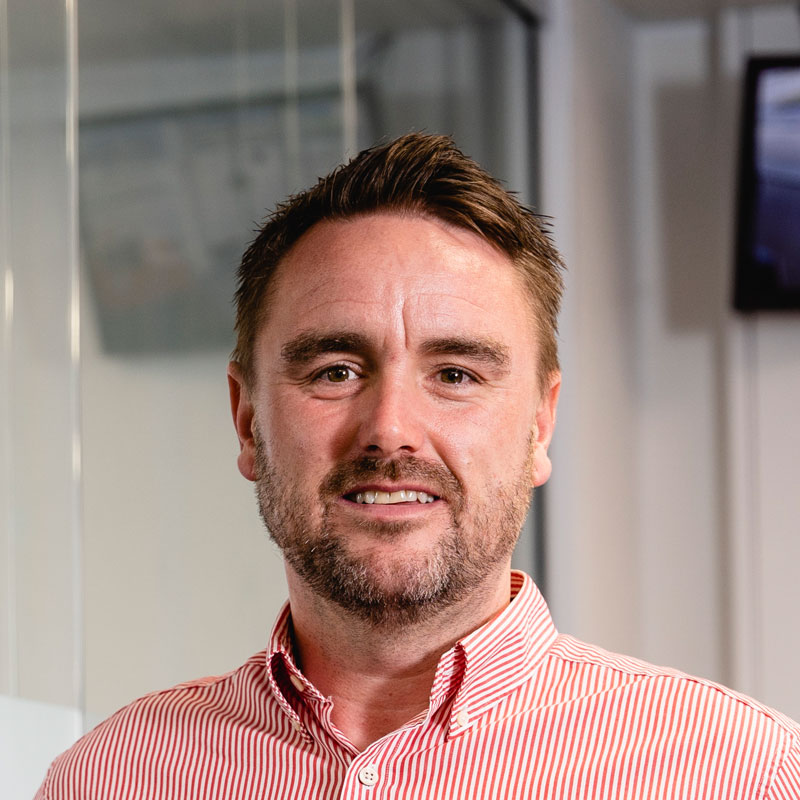 Paul Clews
Managing Director - Alpha Manufacturing / Atlas Coating
---
When Paul Clews started his career at 16 as an Apprentice Engineer little did he know that by 43 he'd be the Managing Director of two of the region's most dynamic engineering businesses – Alpha Manufacturing and Atlas Coating. With a career very much grounded 'on the tools', Paul's hard graft and determination has earned him immense respect from colleagues across The HEX Group.
From a young age Paul had a passion for mechanics and design engineering. Completing his GCSEs, he had every option open to him to advance his education but struggled to see how A Levels and a degree would suit him. Paul shares his thoughts on his early career choices and how it has influenced his career today: "Right the way up to the completion of my GCSEs I thought I'd take the A Level and Uni route – I was pretty committed to an engineering degree, but something didn't feel right. It was through talking to a neighbour that I heard about an Apprenticeship Scheme at Belle Engineering and the penny dropped – the opportunity to earn money and gain engineering skills sounded like the perfect combination."
For the next 10 years Paul progressed rapidly through his career from Tooling Design Engineer to Production Manager in just a few years. It's in his role as Production Manager that Paul cites the implementation of Lean Manufacturing principles as a career highlight – an accomplishment that is considered world-class amongst the manufacturing community. In 2010, Paul makes his move to Alpha Manufacturing as Production Manager and it's here his career advances even further. Paul continues: "I've got so much respect for Belle Engineering; at the time I was there I was given every opportunity to further my career and that's what drew me to the Bri-Stor Group and the role at Alpha Manufacturing. The opportunity to grow and achieve your full potential is a value that really stands out in this business."
Today, Paul retains the same strength of character that spurred him on in his early career days as a 16-year-old Apprentice, and while he carries the huge responsibility of leading a team of over 200 people, he remains committed to the professional development of the people around him, he concludes: "Everybody deserves a chance to succeed and achieve their ambitions if they're prepared to put the hard work in. I look back on my own career and I'm thankful to all the people that took the time out of their own day to show me the way. Now, almost 30 years on, I take every opportunity to nurture the Apprentices in this business, this really is my opportunity to give back."
Neal Lafford
Operations Director - Alpha Manufacturing
---
As Operations Director at Alpha Manufacturing, Neal Lafford is a perfectionist. Whether it's his precision for sport or his precision for operational excellence, Neal is entirely focused on achieving world-class standards in everything he does. At 18 Neal was torn between a career within the sports industry or venturing into business so opted take up a place at Nottingham Trent University, studying design & technology. Neal tells us his story and how he today, leads the operational function of one of the UK's most advanced sheet metal manufacturing businesses.
"All the way through school, in fact right up until the end of my A levels, I was pretty wedded to the idea of a career in the sports industry but at the point of needing to make a decision I opted to take the route towards a career linked to design & technology. Like most lads heading off to Uni, I was pretty unclear about what my future would actually look like. All I knew was I loved Nottingham and I took advantage of every opportunity to have fun!"
Graduating in 2004, Neal took up a short-term role working for Raleigh in Nottingham and also kept sport close to his heart by venturing to South Africa to play cricket. Returning several months later to his hometown in Staffordshire, Neal's career really took off, as he explains: "I joined Belle Engineering (now Altrad Belle) in a production role which was the first time I had the opportunity to work with Paul Clews. Truth be told, it was Paul's intervention in my career in those early months at Belle that steered me towards a production and operational role. At that time, I had a pretty strong desire to work in the technical design function, but with Paul's guidance, I pursued my career in operations – which was exactly the right decision."
Spending five years at Belle Engineering, Neal progressed his career through the production engineering and quality teams, leaving in 2010 to spend three years as a Production Manager for a personalised gift business. It was in 2012 that the opportunity to work with Paul Clews came about as Neal joined Alpha Manufacturing as Business Improvement Manager, he picks up the story here: "2012 was a huge turning point in my career. Joining as the Business Improvement Manager gave me a tremendous opportunity to influence our process improvement programme, but also the opportunity to integrate our capital investment programme which would see us expand our capability significantly. This experience, which has resulted in Alpha maintaining its position as one of the UK's most advanced sheet metal manufacturing businesses, has enabled me to really grow my career. It's our people-first culture that sets us apart from other firms in the same market – our commercial ambitions are brought to life by the drive and energy of every member of our team – a value that is impossible to replicate elsewhere. With almost ten years service at Alpha, no two days are the same and it's the ever-changing opportunity to grow that keeps my career fresh. We're going through a period of extreme growth and with the news recently of the launch of Alpha Integrated Solutions, operationally we're going from strength to strength. The future couldn't look brighter in Hixon!"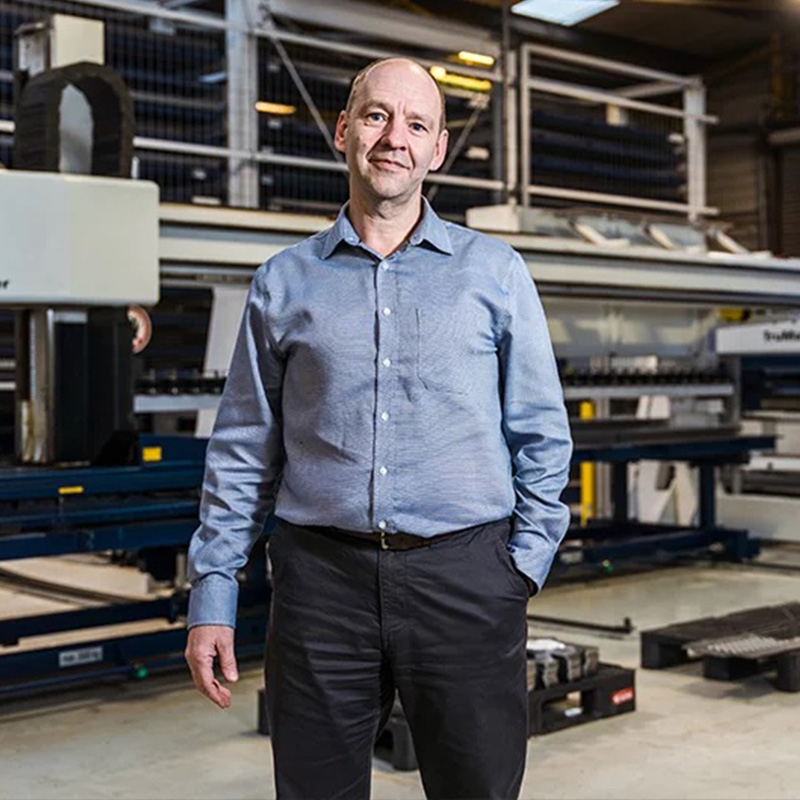 Robin Eley
Commercial Director - Alpha Manufacturing
---
Leaving school, Alpha Manufacturing commercial director Robin Eley was wedded to the idea of a technical apprenticeship but his employer, Dorman Diesels, a subsidiary of GEC at that time, saw that Robin had a real commercial edge so encouraged him to take that route. Today, Robin is the commercial director for one of the UK's fastest growing sheet metal manufacturing businesses.
Robin picks up the story here: "I naturally felt comfortable in a technical world, but Dorman Diesels had other plans for me! I switched my BTEC in engineering to business studies and my career catapulted from that moment. Reflecting on that time the greatest opportunity really was retaining all the technical competency – the hands-on skills of diesel engine manufacturing through to crankcase machining and full engine assembly gave the me the confidence to progress my career in a commercial function with the backing of real technical know-how."
From Dorman Diesels Robin moved to Hadley Industries where he would progress through the business to become a general manager in one of the firm's specialist engineering divisions broadening his experience selling into overseas markets.
In 2002 Robin joined Alpha Manufacturing and it's here Robin cites his greatest career achievements, as he explains: "From the start of my career I've really enjoyed the collaboration between sales and engineering – when you get it right and you work with a customer to engineer a solution, it's incredibly rewarding. Throughout my career the greatest moments have always been when my role has directly interfaced with the engineering process and it's this innate practice that makes Alpha Manufacturing stand head and shoulders above the competition.
"We have such an expansive range of customers and it's incredibly rewarding to work in so many different sectors. While the customer base is vast, every project we touch shares the same high-precision engineering qualities. Still, to this day, the most rewarding part of my job is being involved in concept development though to prototyping and then on into repeat production, ensuring that cost saving ideas are built into the fabric of the initial design."
Alpha Manufacturing has continued to invest in the very best machines and processes that continue to challenge traditional manufacturing methods. This ongoing investment has allowed the company to grow year on year completely eliminating any constraints on capacity. In summing up, Robin says this: "Looking back to 2006 when we relocated to our current Pasturefields site I would have never believed we'd fill it! And now, as we develop the new Chemical Technologies site at Beacon Park, Stafford, we can look to the future with immense excitement as we continue to grow the business working with businesses looking for a trusted partner – not just a supplier."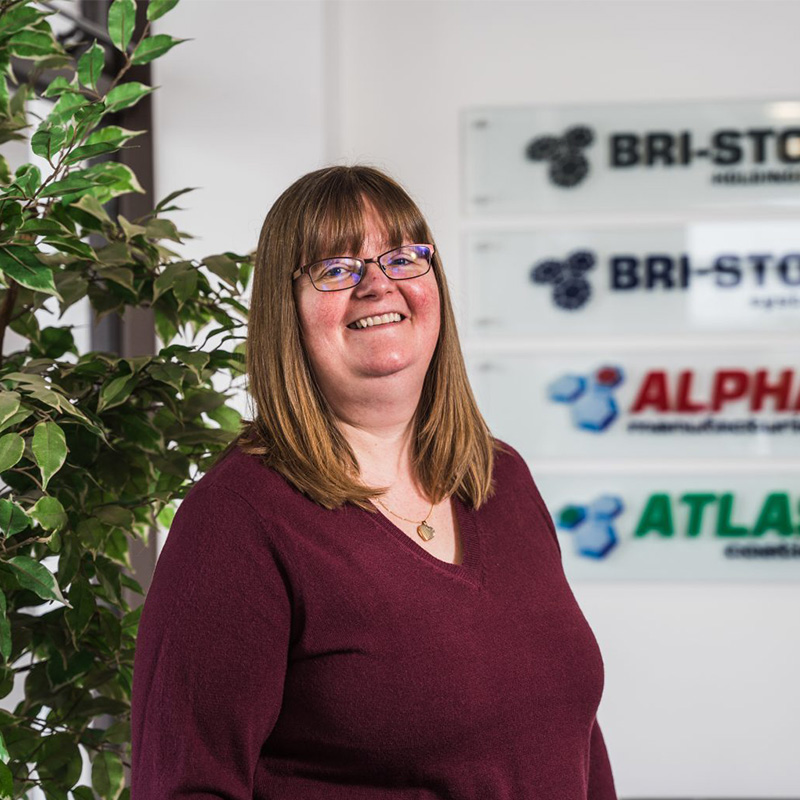 Karen Barnacle
Group HR Manager - The HEX Group
---
At just 17, Karen joined the Group as a receptionist. Unsure of her career path at that point, she loved the vibrant atmosphere of the business. Today, almost three decades on, Karen holds the most senior HR position in The HEX Group, looking after the welfare of almost 500 people as well as leading on recruitment and the Group's HR Strategic Roadmap.
Working closely with the senior management teams across all Group divisions and also supporting Apprenticeship Manager, Will Davies-Hill, Karen never takes for granted the opportunity she has to positively influence the career path of people joining the The HEX Group.
Karen tells us more about her role and her passion for people development: "When I joined the business, I guess I wasn't really sure where I was heading. I loved the 'front of house' part of my job and engaging with colleagues and visitors and in many ways my role in the business naturally evolved. Back in the 90s the company was very different to the Group of today and people often 'flexed' in their positions to fulfil a range of duties. My HR role started just like that. Initially I got involved in admin work, supporting with some payroll duties but I quickly realised that I loved the HR element of my role and that's how my career kicked-off."
Recognising Karen's natural flare for HR, the business sponsored her to complete the CIPD Human Resource Management qualifications which, along with an ongoing programme of professional development, has resulted in Karen becoming a highly accomplished and skilled HR practitioner. Yet, setting aside the essential work she completes to keep the Group's HR function operating at extremely high standards, Karen remains personally and professionally committed to the development of every colleague in the business, including the Apprentices.
In 2022 as The HEX Group sets out its new purpose, Karen shares these words: "The Group is a dynamic, pacey environment where you'll learn fast and get maximum support and opportunity. That said, you'll be expected to bring your 'A Game' every single day – but the rewards are there for those colleagues seeking an exciting future in engineering."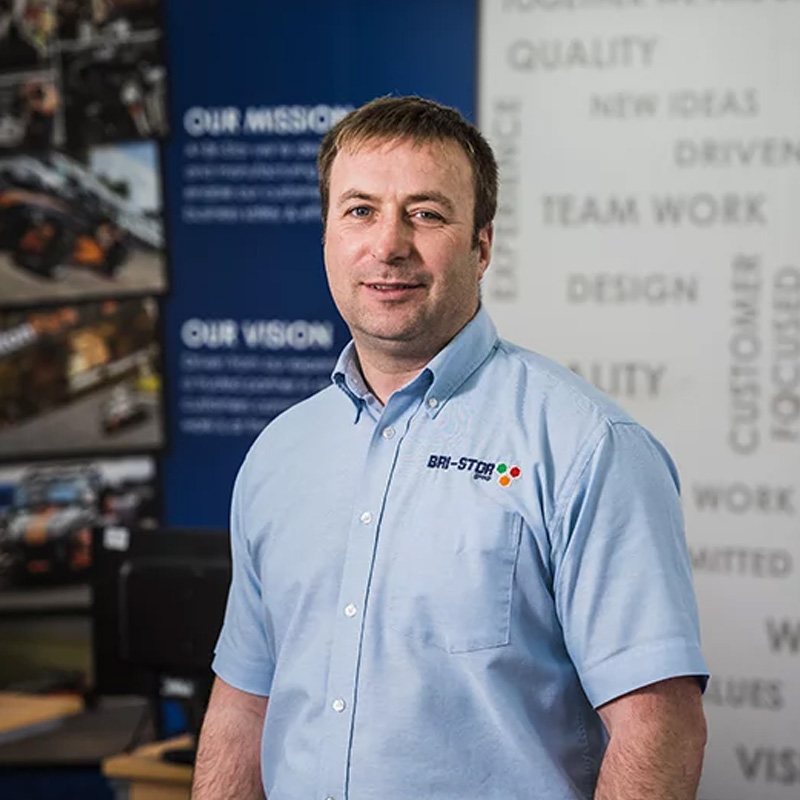 Will Davies-Hill
Apprenticeship Manager - The HEX Group
---
After a twenty-year career in the Army, retiring as a Warrant Officer in 2015, Will Davies-Hill was ready for the next chapter in his career. Joining Bri-Stor Systems and securing a position in the electrics team, Will slotted straight into the fast-paced and dynamic culture of the business and was immediately struck by the firm's attitude towards career progression and personal development, as he explains: "Having spent two decades of my life in the military I'm well aware of the importance of discipline and personal improvement and these are two values that I recognised in the Group, so when the opportunity came up to advance my own career as the Apprenticeship Manager I jumped at the chance. I'd already observed the fantastic opportunity our Apprentices were being given but I knew, with the right support, I could take the Scheme to the next level."
Six years on and Will and the wider teams in the Group have developed a fully accredited Apprenticeship Scheme, and in 2021 launched a formal Higher Apprenticeship programme. With strong ties to both engineering and manufacturing disciplines, The HEX Group Apprenticeship Scheme is in high demand, Will continues: "My dedicated role is all about nurturing and developing young talent. We attract applicants from across the county who can see the diverse and exciting nature of our business and I believe that's because we've embedded the real ethos of Apprenticeship into our scheme – giving young people the opportunity to put their ambitions first."
While year one and two of the Scheme are focused on learning and experiencing different roles, in year three, the Apprentices are getting stuck into a role which matches their ambition, talent and the needs of the business. According to Will, this transition can be more challenging for some than others, but Will has this to say: "whether an Apprentice is joining us at 16, 18 or even older, we understand that coming into the work place can be a daunting prospect. In year one we spend a lot of time focusing on business etiquette and expected behaviour – these are essential skills that need to be acquired but we do it in a subtle way and by year two, they've seamlessly transitioned from pupil to colleague."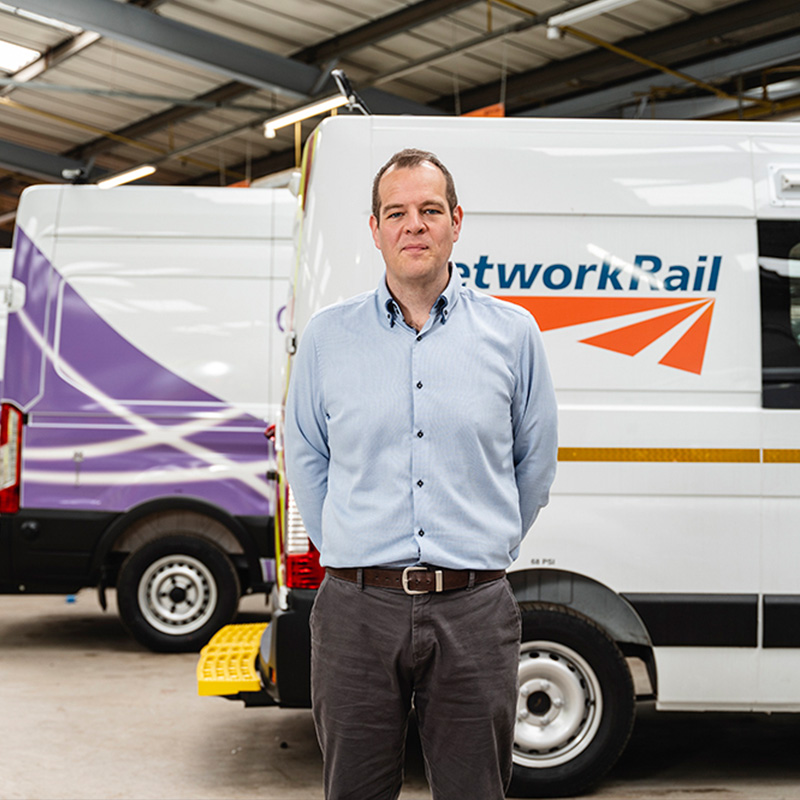 Adam Smith
Operations Manager (Church Lane) - Bri-Stor Systems
---
Joining the business in 2021, Bri-Stor Systems' Operations Manager Adam Smith has made a significant impact in the business in a relatively short period of time. Responsible for operations at Bri-Stor Systems' Church Lane site, purchasing and supply chain management, Adam brings a wealth of expertise to the business having worked in other world-class environments. Adam tells us more about his career and why the role at Bri-Stor Sytems is such a great opportunity to bring tangible, real-time benefits to the operational performance of the business.
"While I've always had primary responsibility for purchasing and supply chain in other roles, I've always had the opportunity to cross over into other areas, whether that's operations, quality management or process improvement and it's this experience that enables me to bring real value to Bri-Stor Systems today.
"Looking back to the start of my career, I wasn't interested in the typical university route, I really wanted to get into work so I started out in my purchasing career as an Assistant Purchasing Trainee and grew from there taking every opportunity to continue my education to degree level standard with full CIPS (Chartered Institute of Procurement & Supply) and CMI (Chartered Management Institute) accreditation.
"Thinking about the here and now, what really attracted me to the role at Bri-Stor Systems was the opportunity to work in an environment that supports cross-functional working – that's absolutely vital. In organisations where purchasing and supply chain is embraced as a critical link in the overall production and engineering process, huge cost and process advantages can be realised. Let me put that into context with a couple of examples. Our relationships with material manufacturers goes way beyond the price and availability of material alone, we are typically the first in line to understand the supplier's innovation pipeline and how new materials can be integrated into our own operations. We're working on a really exciting project at the moment and this team is very much the conduit between our own NPD (new product development) team and the supplier.
"Thinking about the current supply chain challenges, we have an essential job to do in meeting the material needs of our customers' jobs, but we also have a real duty to give our sales team a competitive advantage when it comes to lead times – this has never been more critical than now. We talk about collaboration as an external opportunity, but in real terms, by working collaboratively internally, we bring huge advantages to our customers and the overall performance of Bri-Stor Systems. As a wider Group team, working closely with our colleagues in Alpha Manufacturing, we have the capability to pool our collective skill set and resources to develop solutions that take into account a much broader supply chain base – this is a unique position and one that bring significant customer advantages.
With a strong vision to lead the operations team to bring greater value to the wider business, Adam concludes with these words: "the opportunity to bring leading-edge material technologies to our customers while simultaneously delivering a value-added service to our internal teams is incredibly rewarding - that's a powerful place to be."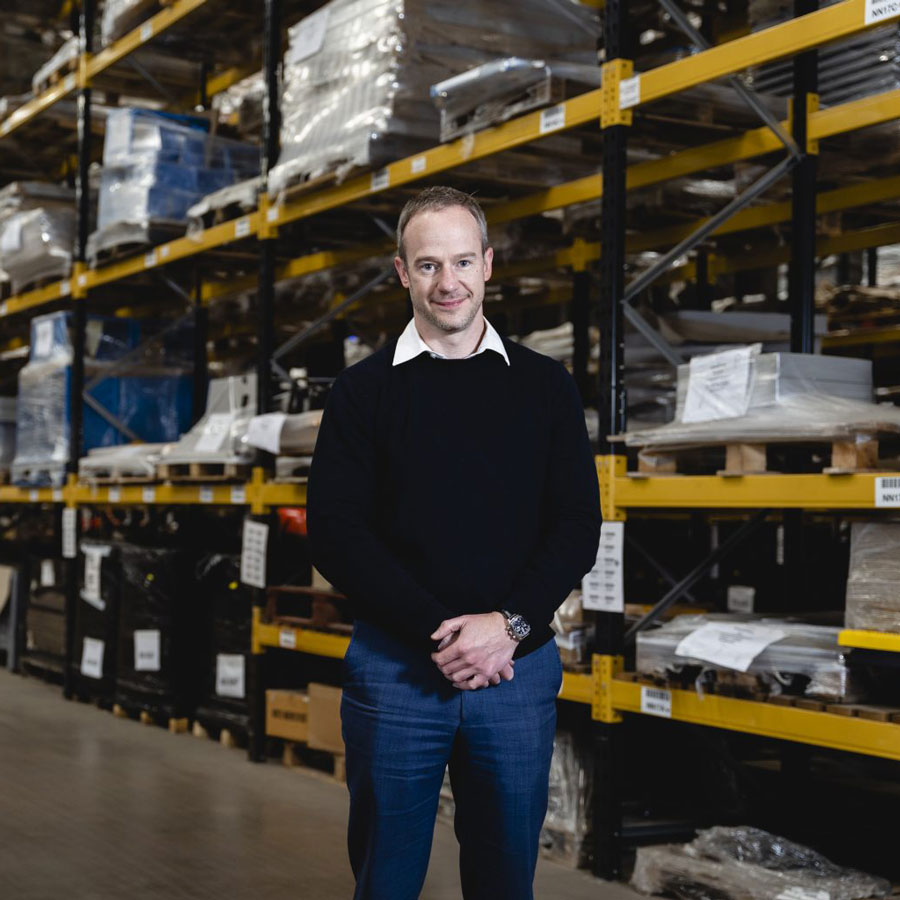 Paul Airston
Operations Manager (Neptune) - Bri-Stor Systems
---
Describing Bri-Stor Systems, Operations Manager Paul Airston is passionate about the business. Joining sister-company Alpha Manufacturing in 2004, like many colleagues in the business, Paul has enjoyed a variety of roles in the Group and today leads the operational performance of Bri-Stor Systems at its busy Neptune site.
Explaining his journey through his career so far, Paul shares these thoughts: "As a lad I was absolutely mad keen on cars, motorsport and engineering so I always felt I'd end up in some sort of automotive or engineering role. Reflecting on my career, I've had the opportunity of working in many world-class manufacturing environments which gave me a fantastic grounding when I joined the Bri-Stor group almost 20 years ago. Initially I joined Alpha Manufacturing as a Quality Engineer and it was from here that I managed the migration of Atlas Coating to its current site. It was a really challenging role but one that I relished and with that experience I was able to take up the position of Production Manager at Bri-Stor Systems. After two years I joined the account management team which gave me great insights into the commercial realities of the van conversion sector. And it's with that 360-degree experience that I'm able to really embrace the role of Operations Manager – having the experience of seeing the world through the eyes of the customer ensures that the needs of the customer stay front of mind at all times."
Paul is a vital part of the team ensuing that The HEX Group operational performance is designed to meet the exacting needs of our customers and he concludes with these comments: "As a Group we've got all the tools in our locker to meet the widely varying requirements of our customers. No two customers are the same which is why our operational set-up on one site brings vast operational and engineering efficiencies. It's a fantastic business and I'm immensely proud of the role the operational team play in delivering on our customer commitments."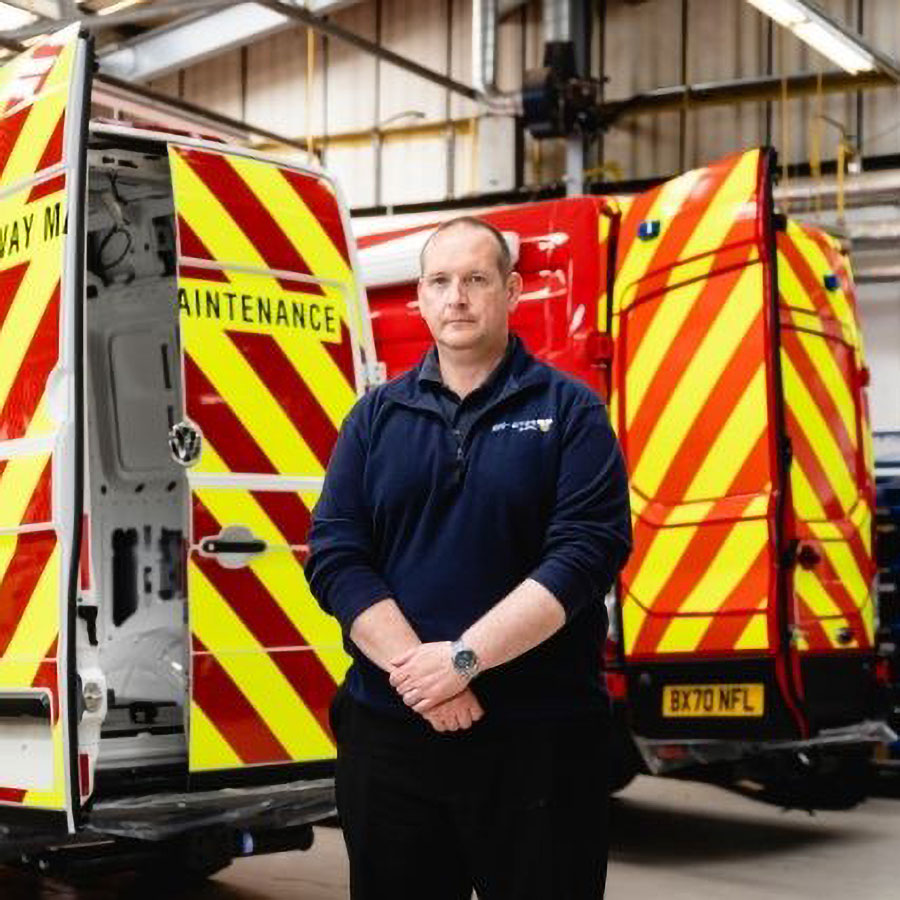 Mark Lodge
Quality Manager - Bri-Stor Systems
---
With 30 years' experience working for one of the UK's most well-known roadside assistance and vehicle breakdown firms, Mark Lodge, Bri-Stor Systems' Quality Manager understands exactly what the customer demands when it comes to fleet conversion.
Joining the business in January 2017, Mark had already completed a six-month role in Bri-Stor Systems acting on behalf of his former employer, so with free access to see Bri-Stor Systems from the customer's perspective, Mark was able to utilise this unique perspective to great effect when he became Quality Manager in 2019. Mark comments: "Working in the business as a customer was a real eye-opener and with completely free access to every function and department, I was able to effectively judge the quality performance of the business through a slightly different lens. Four years on, these unique insights continue to guide and direct the quality team and enable us to remain focused on a world-class customer experience and output."
Mark leads a large team of quality professionals, working closely with sales, engineering and production ensuring our conversions meet customer expectation. Mark continues: "Across every function within the business we have a deep passion for getting it right first time. And if something goes wrong, we act swiftly to put the situation right. This is all about mindset, and whether it's my colleagues in warranty, or the vehicle inspection team, we all share the same common customer goal."
Since Mark joined the business, the level of sophistication and process-driven capability in the quality team has grown significantly, yet Mark is continuously driving even greater standards, as he concludes: "Quality is not an ultimate destination – the team is constantly evolving and improving as we face new challenges. The one constant is the reliance on each team member in the quality department to remain focused on the customer experience. With almost three decades working on the other side of the fence I'll never lose sight of what the customer ultimately demands of us, and that benefits every fleet customer we partner with".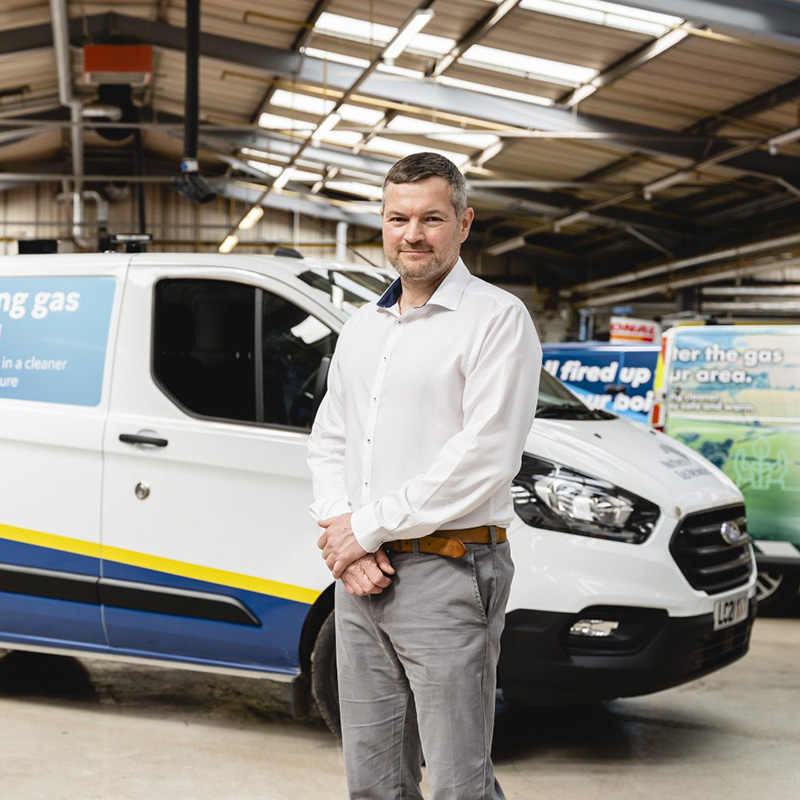 Nick Tomlinson
Head of Sales - Bri-Stor Systems
---
Joining Bri-Stor Systems in 1998 with fresh ideas, Nick exemplifies the quality and world-class standards Bri-Stor Systems is known for. For over twenty years, Nick has been a critical part of the team that has seen the business go from strength-to-strength and with vast experience holds the role of Head of Sales. Nick tells us more about his journey through Bri-Stor Systems and the factors that influence his role today.
"It was the company founder Eric Smith that gave me my first break at Bri-Stor Systems, I joined in the new product development team and very quickly realised the scope of the opportunity to advance my career in a really progressive business. Back in the late 90s we were converting a few dozen vans a month, not the hundreds that pass through our doors each month now, but even back then, the business was driven by values centred around quality and customer care – values that remain very much in place today."
By 2003 Nick became the Fitting Manager and by 2009 was leading was leading the quality team as Quality Manager, playing an instrumental role in the implementation of a state-of-the-art spray paint line in sister company Atlas Coating. Nick picks up the story from here: "I've worked through many functions within the business and seen the firm grow ten-fold in the last two decades. It's with this insight that I'm able to bring value to the customer experience whether it's through the implementation of software tools to aid and improve job-flow, or through our deep relationship with vehicle manufacturers. My role touches many other functions within this business and I strive for perfection in everything we do. There's no secret post-COVID, it's been a challenging time for many of our customers, but it's the strength of our relationship with vehicle manufacturers, coupled with deep insights and knowledge of the market, that enables us to flex to meet customer needs."
In recognition of Nick's significant contribution to the success of Bri-Stor Systems, he became Head of Sales at the end of 2021.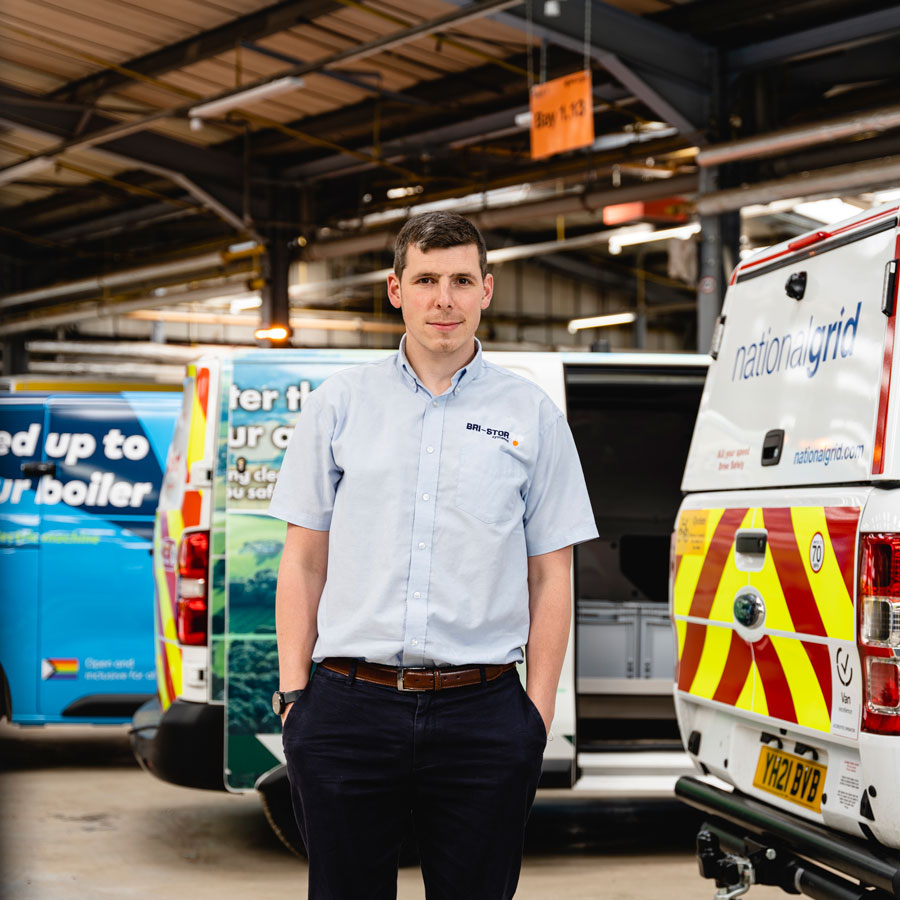 Greg Howell
Business Improvement Manager - Bri-Stor Systems
---
Joining Bri-Stor Systems in 2010, Greg Howell leads the business improvement division and along the engineering team is responsible for the world-class standards that differentiate Bri-Stor Systems in the van conversion market. Starting his career as a manufacturing apprentice, Greg's reputation amongst colleagues and customers is centred around the delivery of uncompromising standards in design, engineering and quality. Greg explains what drives and motivates him in his role as Business Improvement Manager.
"I came through the early part of my career as an Apprentice which gave me a solid foundation in manufacturing and engineering and after completing my apprenticeship, I found myself in a CAD role programming machinery. Reflecting on that period, I wouldn't say it was the most natural fit for me at that time, but now in my role as Business Improvement Manager having that knowledge and insight is invaluable. My first role in Bri-Stor Systems was as a Project Engineer, reporting to Simon Webb who at that time was Engineering Manager, and I immediately felt like I'd found the perfect environment to grow my career. The business is incredibly dynamic and fast-paced, granted that's not for everybody, but I love the energy and commitment of the entire team, it makes a huge difference to our performance. Bri-Stor Systems and our sister-company Alpha Manufacturing are both leaders in the markets we serve, and regardless of how much we invest in machinery and technology, it's the talent and commitment of the people in the business that are responsible for our success. It's that high-achievement culture which underpins the entire business."
Starting his own career as an apprentice, Greg takes a keen interest in the development of apprentices growing their skills in The HEX Group, he comments: "Starting out my own career as an apprentice gave me a solid grounding to be able to do what I do today. Certainly, for engineering and manufacturing roles, combining education and on the job training is by far the best way to get a foot on the career ladder and explore a number of disciplines simultaneously. That approach certainly worked for me and there's no question, we will always support the careers of young people with a willingness to learn and the mindset to challenge themselves."
Known for his absolute commitment to the customer experience, Greg concludes with these words: "Achieving a consistent, high quality output is completely reliant on every member of the team having an appreciation of the bigger picture around them and this is something we nurture heavily throughout the business improvement process. This is people-first business and that culture ultimately drives our continued success."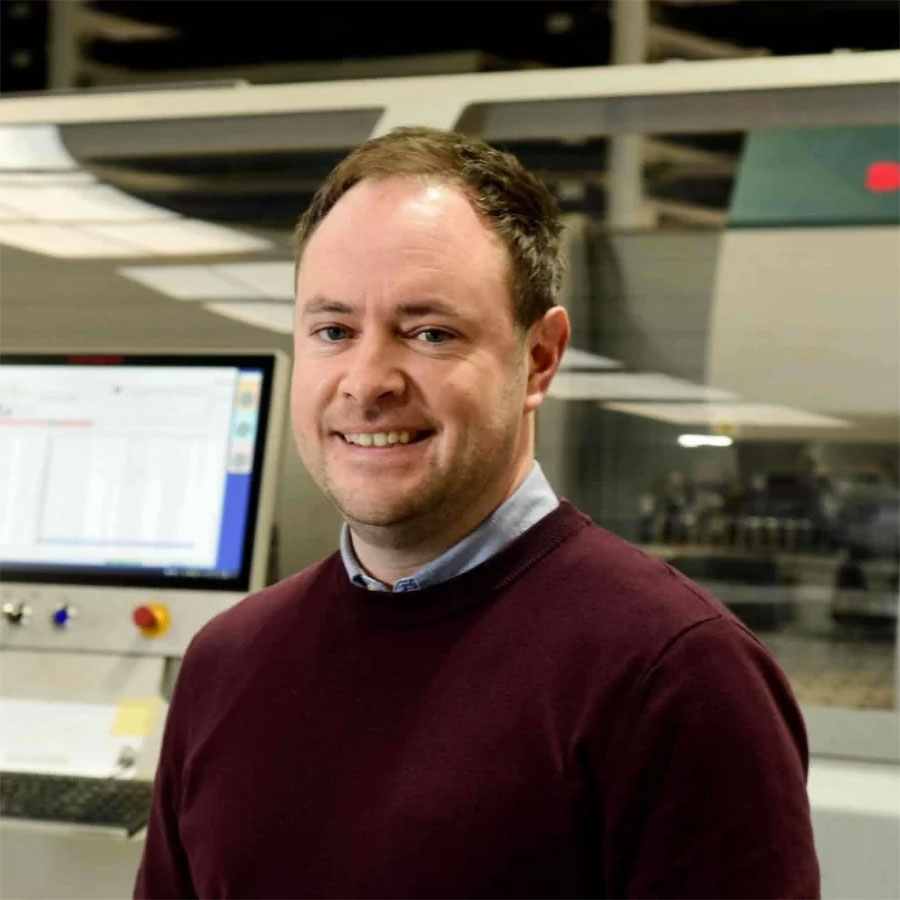 Nick Moss
Senior Production Manager - Alpha Manufacturing
---
When it comes to successfully running a production team, Nick knows how to get the job done. With an in-depth knowledge of production processes, how to efficiently operate a lean manufacturing environment while building a passionate team, Nick joined the Alpha team in 2021 as Senior Production Manager.
Bringing with him a wealth of experience, Nick has the skills to support Alpha as it expands it order book, it's vast processes with new technology investments, and with the opening of two new sites, including the latest development in build, Alpha Manufacturing Chemical Technologies.
Nick talks about his career journey and his current role at Alpha: "At 15 I did my work experience in welding and it immediately ignited a spark in me. This interest in welding led me to my first job as an HGV technician, where I oversaw the building of wagons, and although this involved everything from fitting hydraulics to construction, it was the positional welding that I was most keen on. "After this I began my role at JCB within the welding department, where I worked for 3 years before I was offered the opportunity to move into a Team Leader position and eventually progressed into the role of Group Leader, in charge of a team of 160 people. I had some fantastic experiences during this time, one of which was being given the opportunity to go to India for 12 weeks to help set up a production line in a new factory – an experience I will never forget.
"The hustle and bustle of the shop floor and managing a large team is something I enjoy most about my career to this day. Now, in my current role at Alpha, I have been on a huge learning curve. Getting to know the processes in their entirety– it's given me a whole new perspective and a challenge I relish.
"Alpha is going from strength to strength before our eyes, and being part of that journey is incredibly rewarding. Myhope is to keep growing the team, building on our success to create more jobs for local people and be able to offer more apprenticeship opportunities. "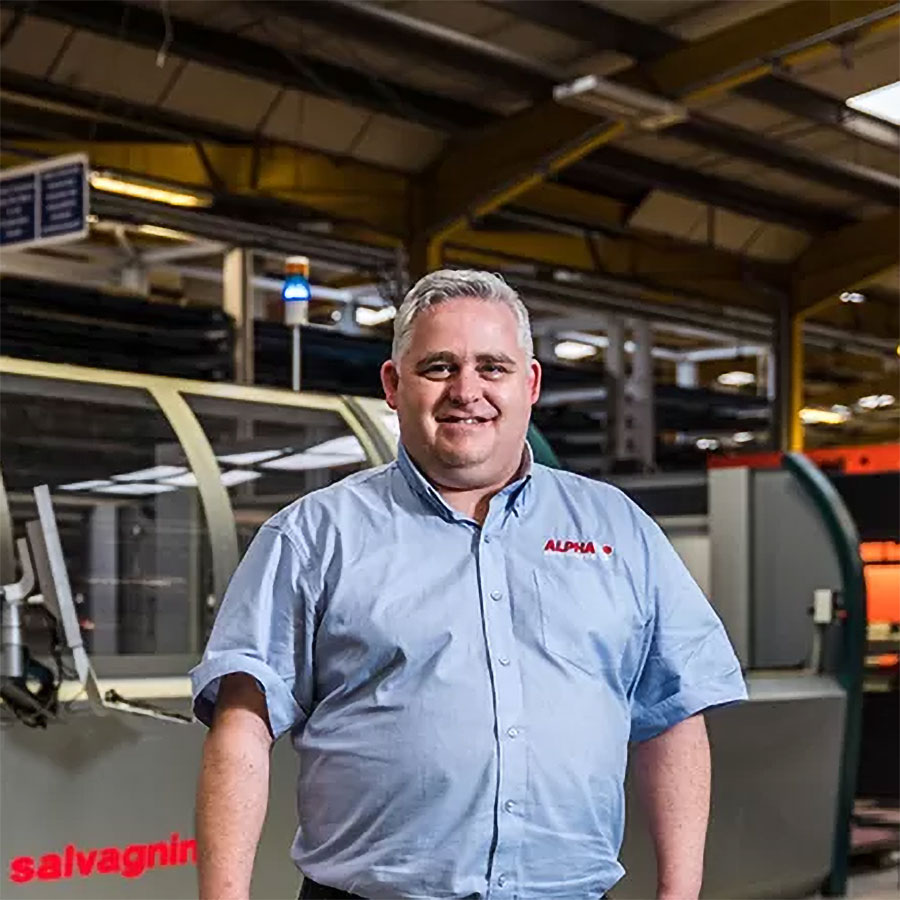 Ben Austin
Quality Manager - Alpha Manufacturing
---
Ben Austin exemplifies everything that can be achieved through sheer hard work and commitment. Leaving school at 16 and drifting into various jobs, it was at 18 that he found his first role working with sheet metal working night shifts as a general labourer. Coincidentally, that role became available due to a large order the firm was producing for Alpha Manufacturing's sister company Bri-Stor Systems – fast forward almost three decades and today Ben leads a dynamic and fast-paced quality management team. Ben tells us about his career journey: "My fascination for engineering came about when I first started operating a press brake, I had a supervisor that would set the machine and I would constantly question how he was doing things and how he was interpreting the drawing and various engineering symbols. I quickly picked up how to read a drawing and realised I had a natural aptitude for visualising parts and how to create a flat pattern from a 2D drawing, an essential skill pre 3D CAD. The real turning point in my career came about when I progressed into a programming role, I'd finally found my niche at that time."
In 2000 Ben joined Alpha Manufacturing as a programmer and demonstrated very quickly his capacity to go above and beyond the requirements of the role to move his career forward, as he explains: "As the company has grown in the last 20 years I've accelerated my career by really embracing every opportunity to improve my professional competency – both from a leadership perspective and within my field of expertise. Equally, I have been given a clear career path through the business and this is testament to the professional and progressive nature of the The HEX Group."
Without question, the highlight for Ben's career came when he was asked to head up the quality team, a critical function within the business, Ben continues: 'Being asked to take over the quality manager position was extremely rewarding as this felt like true recognition for all the previous hard work I'd put into my career. Indeed, it's with this same spirit that I manage the entire quality function. It's great to see your team members improve and develop over time, in fact, my proudest moments have been when members of my own team have progressed into management positions. I always encourage my team to step outside their comfort zone and emphasise that with a positive mindset, great things can be achieved. Heading the quality team means I have much more contact with our customers and it's hugely satisfying to work collaboratively to overcome challenges, this open relationship really underpins our strong reputation for excellence."
Alpha Manufacturing has made no secret about its ongoing investment strategy and this is just one factor that continues to motivate Ben, as he shares: "the fact that we continue to invest in the most up to date and cutting edge sheet metal technology keeps things really fresh and exciting. As the Quality Manager I'm able to constantly improve the facilities around us which puts us in a strong position to support the five year strategic plan."
As a strong and committed leader Ben has strong people values and brings tremendous value to his team, he tells us why this is important: "one of the main things that I have learnt over the years is stay calm and keep a clear head, even when faced with adversity. This enables you to make clear judgements that are correct and concise and by keeping the customer at the centre of our decisions we always achieve the right outcome and reduce the risk of those challenges reoccurring. Alpha Manufacturing is a tremendous, world-class business and I am proud to be part of its success."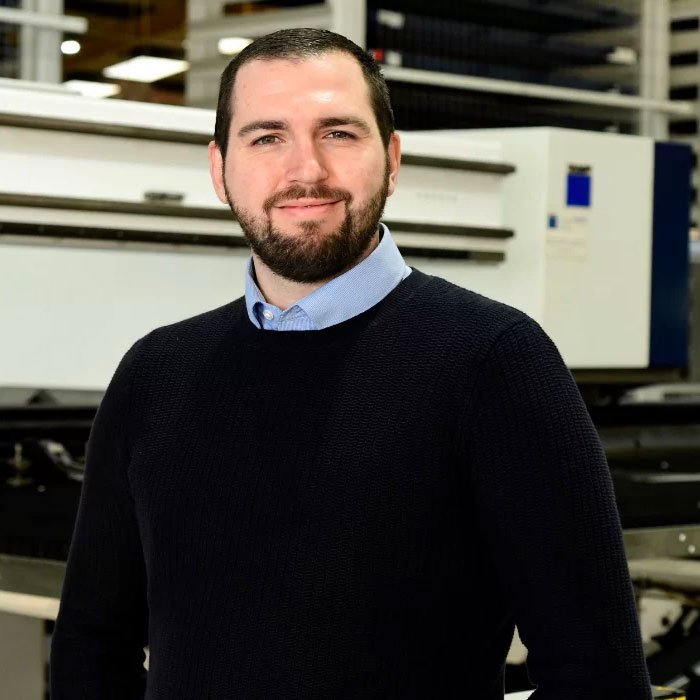 Peter Smedley
Business Improvement Manager - Alpha Manufacturing
---
Joining Alpha Manufacturing in 2022, Peter Smedley has a proven track record in manufacturing having achieved significant career milestones working for a well-respected industrial engineering business in Stoke-on-Trent. With 15 years' experience, Peter is well adjusted to the world-class environment of Alpha Manufacturing and with vast experience managing large teams and complex production processes, he is the perfect fit for the role of Business Improvement Manager.
Peter explains more about his career and what his focus will be in the coming months: "For me, the emphasis of any production process should start and end with the team. Over the last few years, I have gained a great deal of practical experience managing large teams but I've also backed this up with achieving formal qualifications to really consolidate my skills. Prior to joining Alpha Manufacturing and working with Neal Lafford I was really keen to get a sense of the culture in the business and it's everything you'd expect it to be. People come first, and training and improvement is a real priority for the business. That alone, speaks volumes about the business and as a consequence, every team member shares the same attitude towards delivering a world-class output.
"Sheet metal and specifically automation has been a big emphasis of my career in the last ten years and I have a lot of experience of developing and improving processes that involve a broad mix of equipment. From robotics, to lasers to welding, folding and punching, the entire end-to-end process not only relies on the machine doing the job, but it relies heavily on the operative having a really good grasp of its capability. That's a real focus for me in this role, I want to ensure that every single operative fully understands how they can contribute to production efficiency by fully understanding the capability of the machine.
"One of the factors that really impressed me about Alpha Manufacturing is the continued investment in equipment and machinery. Despite a global pandemic and the impact of Brexit, Alpha goes from strength-to-strength, recently announcing the launch of its Chemical Technologies factory in Stafford. But it's not just about adding new 'toys' to the production process, every single investment is made as a consequence of the growing demand for Alpha's leading-edge capability, creating the world-class business you see today. It's an incredible business where people are motivated to do a fantastic job and the culture of the business underpins success. I'm incredibly excited about the future at Alpha – it's a great place to be."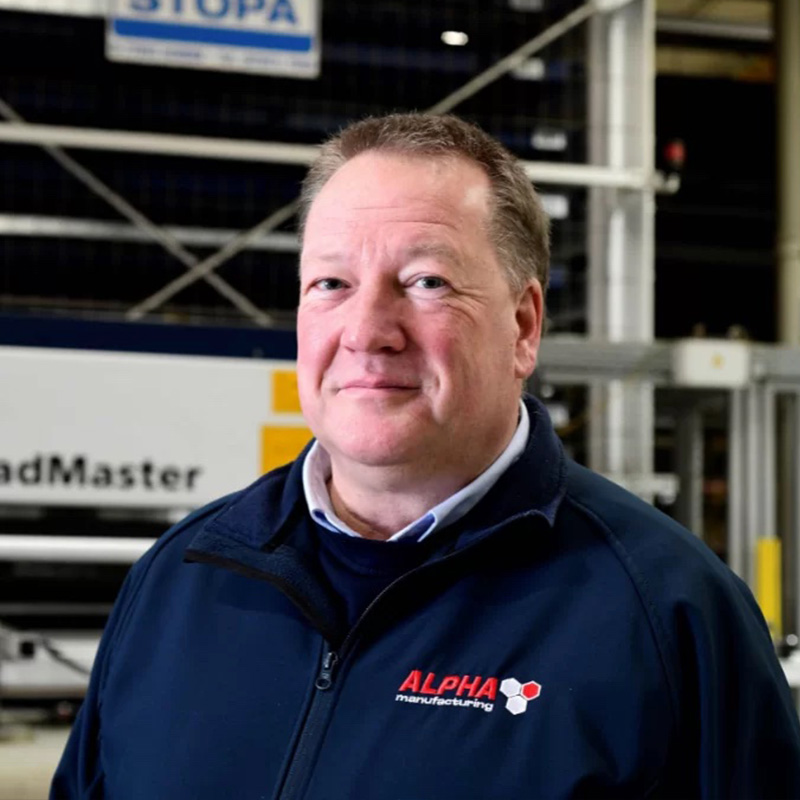 Justin Kelly
Chemical Technologies Manager - Alpha Manufacturing
---
Joining Alpha Manufacturing in 2018 Justin Kelly has made a huge impact in a relatively short period of time. Leaving behind a career in the engineering and motorsport industry, Justin has demonstrated incredible skills and aptitude, which today, makes him responsible for the successful delivery of the new Alpha Manufacturing Chemical Technologies division, a collaboration with INEOS Electrochemical Solutions.
Spending several months in Sweden in 2021 to understand the complexities of the processes being delivered at the new production plant at Beacon Park, Justin is no stranger to challenging environments, as he explains:
"At every point in my career I've embraced challenges and opportunities to progress and as soon as I joined Alpha Manufacturing, I could see the potential to grow even further. I've really learnt this business from the ground up and seen Alpha Manufacturing from several perspectives – as an operative, a team leader and a manager – that's invaluable in my role today. Without question, leading the delivery of the new factory is not without its challenges. It's a question of moving several hundred parts at the same time, keeping close attention to the ultimate destination – the opening of a new state-of-the-art facility, manufacturing components for one of the world's leading businesses. Now that's a rewarding outcome."
Justin, who also holds an engineering-related PhD, sees the new factory as an opportunity to support and develop other young engineers, as he tells us: "Chemical Technologies is a fantastic environment to work in. Of course, it's all new and set out against leading manufacturing principles, but it's also an environment where we can develop and nurture talent for the future. My own career is incredibly rewarding, in part because I've sought opportunities to grow and develop but I've also had some fantastic mentors along the way. I see the opening of the new facility as not only our opportunity to assert our position as a world-class manufacturer, but also our opportunity to demonstrate our capability as a world-class employer – a responsibility I take incredibly seriously."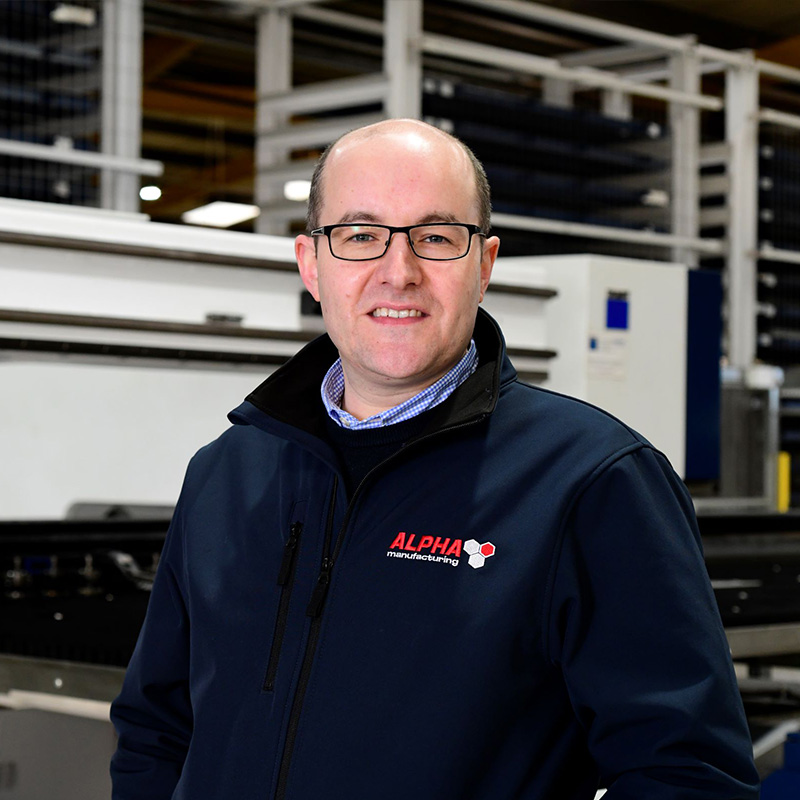 Michael Whitfield
Commercial Manager - Alpha Manufacturing
---
Joining Alpha Manufacturing in 2021, Michael Whitfield brings with him a wealth of knowledge in numerous sectors including engineering, finance and sales. With 15 years' experience, Michael is well accustomed to large organisations hence being the perfect fit for the role of Commercial Manager at the multi award-winning Alpha Manufacturing. Describing the journey through his career so far, Michael shares these thoughts: Always having a keen interest in engineering I left school and followed my passion studying Agricultural Engineering. College and University involved a work placement which is where I started my career and successfully remained for the next 15 years. Throughout this time I was fortunate enough to work in various divisions of the business, broadening my knowledge and giving me the experience to bring real value to my role today. "Thinking about the here and now, what really attracted me to the role at Alpha Manufacturing was the opportunity to go back to my engineering roots whilst being able to incorporate my commercial, customer and sales expertise. Alpha Manufacturing maintains its position as one of the UK's most advance sheet metal manufacturers and with the launch of The HEX Group, the future is extremely exciting. Although still relatively new to the job, I am incredibly excited to use my industry knowledge to retain and grow the customer portfolio and implement strategies that will see The HEX Group continue to grow and succeed."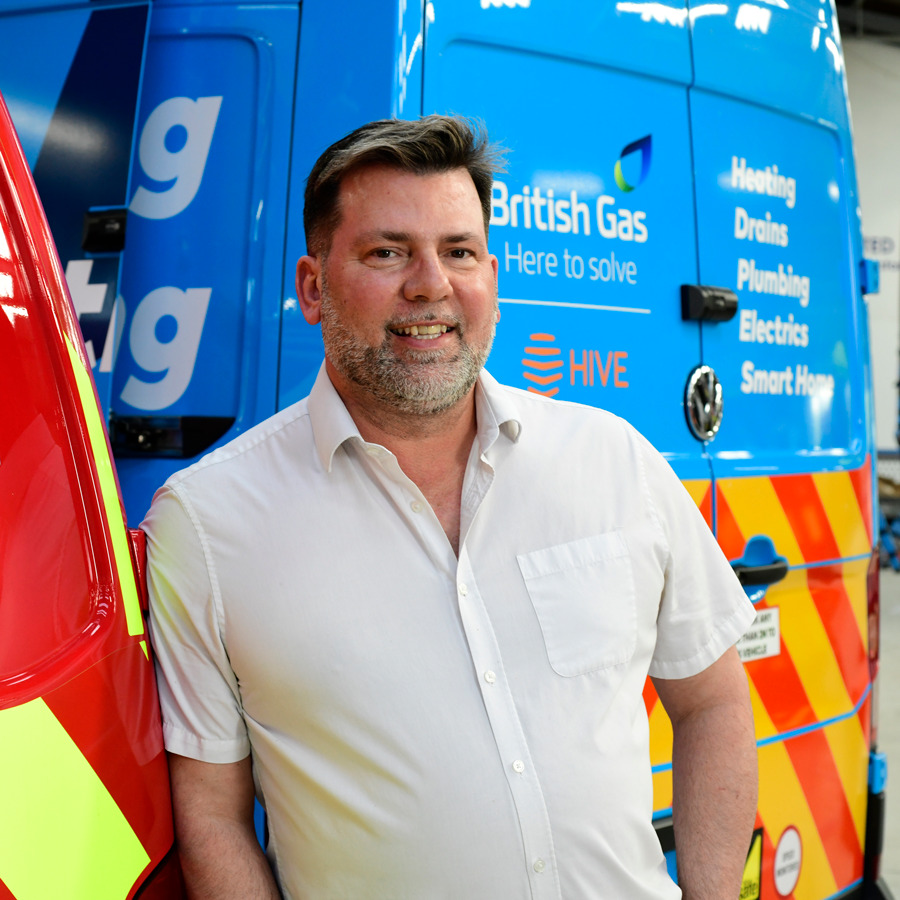 Zak Karrouze
Graphics Director - HEX Graphics
---
Joining HEX Graphics' in 2011, Graphics Director Zak Karrouze has made a significant impact, building and developing the experienced and dedicated Graphics team. Guiding the creative vision for the design team and overseeing the overall operation, Zak brings a wealth of expertise to the business having worked in a design environment his entire career.
Zak explains more about his career and why HEX Graphics is instrumental in the expansion of The HEX Group: "As early as I can remember graphics has been in my life. Leaving school and completing a graphic design course opened my career and I took every opportunity thereafter to develop. The next 20 years saw me move into the commercial vehicle graphics market. Determined to learn, I was involved in numerous operational functions, ultimately enabling me to bring this knowledge to HEX Graphics."
Ready for his next chapter, Zak joined Bri-Stor Systems as Graphics Manager in 2011. Fitting straight into the fast-paced and dynamic ethos of the business, Zak's impact was soon recognised, and his career was propelled to General Manager shortly followed by his current role as Graphics Director. Zak has influenced the growth of HEX Graphics and been key to the expansion of the production facility and the extensive services customers now enjoy.
Zak's commitment and enthusiastic is what sets him apart and he is a key figure in the Group. With a strong vision to lead the graphics team to create further value to the overall business, Zak concludes: "Our absolute focus is on exceeding customer's needs, and this is what we are famed for. Every person in the team lives and breathes graphics and it's with this commitment, we will continue to deliver strong growth."